Meet our Doctor!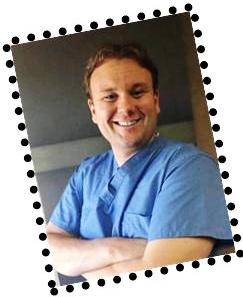 Christopher Roebken, D.D.S., M.P.H. ("Rebkin") is a board certified general dentist and is very excited to serve the oral healthcare needs of Rohnert Park and the surrounding communities of Sonoma County. Dr. Roebken is a native of Marin County and has experience assessing and treating a wide variety of dental pathology.
Dr. Chris earned a Bachelor of Science from the University of California at Irvine and a Master of Public Health from the University of Southern California. While living in Southern California, Dr. Roebken served as a health educator for the Los Angeles Department of Public Health where he solidified his passion for dentistry and preventive care.
He was thrilled to return to the Bay Area to attend the University of the Pacific Arthur A. Dugoni School of Dentistry, devoting his time and energy to practicing dentistry among underserved and special needs patient populations. He is a member of the American Dental Association and California Dental Association. Dr. Roebken is the only Rohnert Park dentist with the honor of being nominated three years in a row as "Best Dentist" in Sonoma County.
Dr. Roebken believes in giving back to his profession through organized dentistry. He has held a past position for the Academy of General Dentistry as continuing education coordinator and now serves as Secretary for the Northern California chapter. Dr. Chris is currently on track to earning his fellowship with the academy and eventually his masters, an honor earned by less than 2% of all dentists in the United States!
Outside of the office, Dr. Chris enjoys skiing and hiking in Lake Tahoe, eating his way through the restaurants of San Francisco, and exploring the natural beauty of the North Bay. He also loves spending weekends in the company of family, friends, his wife Britta, his toddler son, Bryce and their miniature Goldendoodle puppy, Oliver. Dr. Roebken is an avid Giants, Niners and Warriors fan and is excited to make his home back in the North Bay.
Dr. Roebken is passionate about providing comprehensive quality care to residents of the North Bay and Sonoma County. He enjoys integrating the science and artistry of dentistry to help patients achieve a healthy and beautiful smile. Dr. Chris looks forward to providing excellent care to all the patients in Rohnert Park, Cotati, Penngrove, Petaluma, Santa Rosa and surrounding areas!
Meet our Hygienist!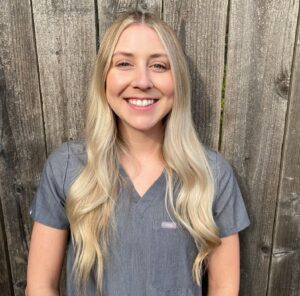 Maddie H., R.D.H. is a Sonoma County native who grew up in Windsor. She and her husband settled in Rohnert Park with their two dogs and recently welcomed their daughter into the world. Maddie has been in the dental field for over half a decade and truly enjoys what she does. She attended Carrington College in Sacramento to complete her degree in dental hygiene and before that earned her registered dental assistant (RDA) degree and worked as a dental assistant before she discovered her love of dental hygiene.
Maddie's daily goal is to improve patients smiles and ease their dental anxiety. She believes a healthy smile boosts an individuals confidence and loves building relationships with each of her patients. She is especially pleased when she can help put her patients at ease in the dental chair. She has a gentle yet thorough touch! No two people are alike and Maddie recognizes this and enjoys helping patients find and keep their healthy smiles with individualized care in our Rohnert Park office.